The summer is coming to an end, and school is almost back in session. Preparing for classes and after school activities are not the only thing on parents' minds, though. This summer has given Victoria some record-breaking heat, and with that heat comes sun-related health risks. To keep families prepared for kids to get involved in school sports and make the most of their recess time, Victoria ER wants to keep everyone informed about the three most common heat-related health concerns.
Sun Burn
Sun burns are the most common concern for anyone going out into the sun. Sunscreen is a staple for beach trips and long days at the park, but when we think about back-to-school season, we don't think of sunscreen as part of the picture. But anytime spent in the sun can leave your skin open to. If your child spends a lot of time outside playing around the neighborhood or practicing for the big game, then make sure they have sunscreen with them.
The best SPF choices for kids is SPF 50 and higher. Paler skin tones are more likely to burn, and anyone with a family history of skin cancer is at a higher risk for long term health issues. Make sure that you encourage your kids to apply sunscreen when they're out in the sun, even when it's no longer summer.
Heat Exhaustion
When we exercise outside in the heat, your body naturally gets hot, which is why we sweat. To remedy this, most people drink water and spend time in the shade, but sometimes water and shade are not readily accessible. In these cases, when someone cannot cool down, they may begin to suffer from heat exhaustion. This serious condition is characterized by:
Fatigue
Light-headedness
Cold, clammy skin
Nausea and vomiting
Muscle cramps
Headaches
Fainting
These symptoms are more likely to happen to anyone who is outside for long periods of time, or physically exerting themselves in hot weather. Kids who play sports outside are at higher risk, so it is important that parents and children both know the signs of heat exhaustion, so that they know what to do.
If these symptoms begin to emerge, immediately seek a cool place to rest, get water or a hydrating sports drink, loosen clothing or remove layers if possible, and get a cold compress for the head and neck. If these symptoms persist or get worse, seek medical attention immediately.
Heat Stroke
Heat stroke is an even more serious condition than heat exhaustion. Sometimes, if the symptoms of heat exhaustion are not recognized, then there is a risk of heat stroke. Heat stroke can be very dangerous and requires immediate emergency medical care. The following symptoms mean that a heat stroke is imminent or already happening:
High body temperature of 103⁰F or higher
Hot, red, and dry skin, when someone has stopped sweating
Fast, strong pulse
Dizziness
Nausea
Confusion
Losing consciousness, worse than feeling faint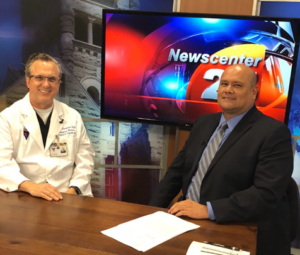 The effects of heat stroke can be avoided if the proper precautions are taken. Frequent hydration, and knowing your limits are a good place to start. If you need a rest while you're outside, then find a cool, shady place to sit down. As long as you are attentive to your needs, the risks of heat stroke go down.
Victoria ER is here to help if you or a loved one begins to experience signs of severe heat exhaustion or heat stroke. We encourage everyone to stay hydrated and be careful of sun risks as school and sports seasons begin. Our board-certified doctors are available 24/7 to provide concierge-level care to adults and children alike.
To learn more about heat health risks, see Victoria ER's own Dr. Steven Gartzman on Community Connection!
---
Nutex Health, Inc. supports you and your family's health. Come visit Victoria ER or any one of our concierge-level freestanding facilities for the emergency care you deserve, 24 hours a day, 365 days a year.