Victoria ER – the 24 hour emergency clinic has always been synonymous with quality healthcare, professionalism and a dedication for instant care and personalized attention.
Over time, we've emerged as a leading emergency care provider in Texas, committed to providing the highest quality in emergency care, alongside quick and accurate solutions to medical emergency needs. The grand opening of this meritorious emergency care center took place on January, 28, 2016 which was held particularly for the general public to attend between 10:00 am to 3:00 pm.
The Grand Opening of Victoria ER – Public Event
The event, beyond our expectations, turned out to be a magnum opus and a huge success. Filled with surprises, gifts and giveaways for the attendees, the event offered a platform for people to engage. What made the grand opening of Victoria ER an unforgettable event was the LIVE radio broadcasting from KIXS 108 and KVIC.Moreover, the event offered a chance for the general public to learn about Victoria ER's role in the community. It was indeed a great opportunity for us to educate people about our specialized staff that possesses the ability to deliver excellent patient care in a forthcoming, stress-free environment – taking healthcare standards to a new level. During the event, we announced 4 lucky winners of the HEB gift cards and 1 winner of the FitBit Flex watch. We like to take this opportunity to congratulate all the winners of the event! Gladly, we had a nice turnout for the public event and everyone seemed to have a good time.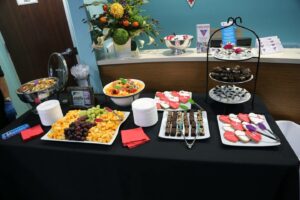 The Grand Opening of Victoria ER – VIP Event
In addition to conducting a grand opening of Victoria ER for the general public, we held a separate grand opening for the VIPs on the same day. Commencing from 5:00 pm and concluding at 8:00 pm, the invitees of the event included community physicians, business owners and other reputed professionals in the area. The primary goal here was to connect with leading professionals in the healthcare industry. With activities planned, it served as a perfect opportunity for all attendees to engage. For both events, in addition to the interesting activities and great food, we were able to disseminate valuable information of the efforts behind Victoria ER.
The event was – indeed – a major success. We continue to take initiatives in serving Victoria region in the best possible manner. Get in touch with us for the best medical emergency care.
---
 Nutex Health, Inc supports you and your family's health. You can depend on Victoria ER or any one of our concierge-level, freestanding emergency facilities to deliver the emergency care you deserve, 24 hours a day, 365 days a year.