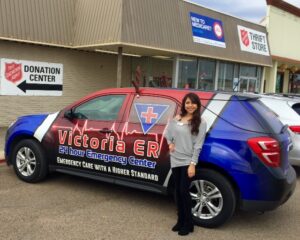 For the past 2 years, Victoria ER has been proud to host our holiday blanket drive to benefit our community, and after 2 years of generosity, we are back for our third drive. That's right, the 3rd Annual Victoria ER Blanket Drive is on now, and in our final two weeks of collections, we want to celebrate how much this event has thrived thanks to our dedicated staff and truly caring patients.
Victoria ER's 3rd annual Blanket Drive aims to collect as new or gently used blankets through Monday, December 17th and distribute them within our community. All of our collected blankets will go to The Salvation Army, Victoria County Senior Citizens Association, Christ Kitchen, Nursing Homes, and more.
Victoria ER employees Sheila Kilgore, Director of Marketing, and Marcy Moncada, Community Outreach Specialist, have begun to personally deliver the donations throughout Victoria in hopes of making a difference with the gift of a comfortable blanket. At a time when temperatures are freezing, having a nice, warm blanket is something many of us take for granted, and giving blankets to the community is an impact we hope will make a difference.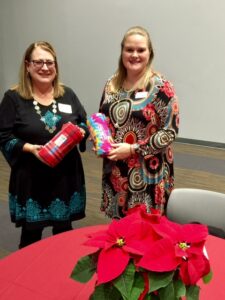 Our Blanket Drive is not the only outreach event that Victoria ER is participating in, though. This year we are also taking part in the Every Child Deserves a Little Christmas project. Victoria ER took part in Every Child Needs a Little Christmas as a drop off station from November 1st – December 14th for the Marine Corps Reserve Toys 4 Tots campaign. Generous people have donated new toys to our facility for the less fortunate children of the Victoria area who all deserve a little Christmas magic.
The Toys 4 Tots National Campaign has distributed over 7 million toys and Victoria ER is proud to participate in a campaign that brings a smile to our local children. With the help of our local families, we've been able to make this holiday season a little merrier and brighter for children in need.
With both our 3rd Annual Blanket Drive and Every Child Deserves a Little Christmas happening in December, Victoria ER is proud to give back to our community. We hope that all families in Victoria are getting to celebrate their holidays right, with good friends, good food, and good spirit. In the event of any holiday mishaps, our facility is open 24/7 with concierge-level medical care for all ages.
---
Nutex Health, Inc. supports you and your family's health. Come visit Victoria ER or any one of our concierge-level freestanding facilities for the emergency care you deserve, 24 hours a day, 365 days a year.